Corporate overview | Contributing to the local community through a range of leisure activities Cultivating people and business We are the LPC Group
Message from the President
Contributions to local communities through an abundance of leisure proposals.
LPC Group members are in wholehearted pursuit of our corporate philosophy.
LPC Group is involved in a broad array of business ventures centered on the entertainment industry including hotels and weddings, advertising agencies, and restaurants, all of which are operated in a manner that helps realize our corporate philosophy.
LPC Group has also expanded these business fields into the San-in region of western Honshu. And even in overseas markets, our corporate philosophy of "Contributions to the local community through an abundance of leisure proposals" remains unchanged.
LPC Group is invigorating local economies by developing intimate relationships with the local community and developing leisure-based business. Our businesses and stores are operated to make local residents feel happy that LPC is there.
Each group member takes our corporate philosophy to heart, allowing us to continue to tackle new challenges in order to launch all-new businesses and services while in pursuit of quality in our day-to-day work.
We consider this to be our mission.
Launching another new service or business that contributes to the local community will simultaneously produce another business leader. With this in mind, LPC established the "100 Company Group Concept" . This concept calls for the creation of 100 companies and 100 company presidents within a span covering the 30 years that have passed since LPC was founded, and on through the next 30 years..
LPC Group members follow our corporate philosophy wholeheartedly, creating an array of enjoyable and relaxing locations that can be enjoyed by not only the people of Shimane, but Japan and the world over..
Fumiki Shiragami, President & CEO of Marusan
The corporate philosophy
The company which contributes to the community by proposing quality leisure time.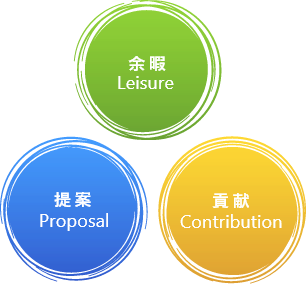 ❶Creating retail outlets that will be loved by local communities.

❷Establishing an organization that can stand as a model in the regions serviced.

❸Building a strong company that can protect employees.
Creating retail outlets that will be loved by local communities.
For a business or store to continue to exist, it is essential that it be supported by the local residents and function as part of the local community. To that end, we are not satisfied with just profit seeking, scale expansion, expanding local business ties, and legal compliance. Rather, the LPC Group acknowledges the needs of the local community and the people that inhabit it, and believes in pouring effort into philanthropy within the region.
Establishing an organization that can stand as a model in the regions serviced.
The LPC Group is convinced that in order to become a company that contributes to the local community, we must be an organization that is a shining example to that community. An organization is quite simply an assembly of people. And for that reason, the LPC Group spares no expense when it comes to investing in cultivating human resources. An organizational system and various types of research aimed at improving service quality and customer satisfaction levels are of course actively addressing volunteer and fund raising activities.
Building a strong company that can protect employees.
A company that does not look out for its employees will never develop and grow. To protect those employees, sustained and then improved profitability is a must. The LPC Group offers fields that continuously challenge each employee to grow based on a philosophy that is approved of by the community, a business strategy that takes a bird's-eye view of social conditions, and a stable financial foundation. We at LPC Group believe that it is exactly this type of strong company that can protect its employees.
LPC Credo
"LPC Credo"
§

I will take an interest in everything around me and continue to learn.

§

I will think and act without fear of failure and believe that even failure is food for future growth.

§

I will take pride in my appearance, the language I use and my behavior and will address customers with a heartfelt greeting and smile.

§

I will respect the individuality and abilities of the colleagues with whom I work and make every effort to maximize our total power through cooperation.

§

I will always maintain a clean and comfortable working environment.

§

I will provide the best possible service with heartfelt hospitality.

§

I will actively participate in local community activities and work to build broad, strong personal connections.

§

I acknowledge that the realization of Group's "corporate philosophy" and "management philosophy" is my mission and will strive to enhance corporate value by thinking and acting independently.
2015.4
8 Rules of Compliance
We acknowledge the importance of following the rules set forth by society and promise to comply with the following.
Regardless of the situation, or the reason, we will not break the rules even if asked to do so.
Ignorance is no excuse. We will make every effort to find out things we do not know or ask our supervisors or the relevant departments.
We will not try to cover up or hide misconduct or mistakes.
In the event of misconduct or a mistake, we will promptly take corrective action and measures to prevent recurrence.
We will seek advice from our supervisors or relevant departments in the event we feel we may be breaking the rules.
We will immediately report any cases where a rule has been broken to our supervisors or relevant departments.
With the exclusion of attempts to seek advice or make a report with wrongful intentions,
any individual seeking advice or making a report will not be placed at a disadvantage.
In the event a rule is broken or such activity is covered up, the parties involved will be dealt with strictly and fairly in accordance with XX regulations with no room for ambiguity.
Our promise to employees
The driving force behind the continued growth of the LPC Group is employees armed with a willingness to learn, honesty and a positive mindset.
Based on a corporate culture that is highly transparent, free, open and rewarding, we will take pride in our position as a leading company with qualities that include courage, honor and shared values and standards as we work towards the realization of our beliefs and goals and will continue to boldly, yet carefully take on new challenges with an entrepreneurial mindset to establish the LPC Group as an industry leader. In order to nurture employees that fit this mold, the LPC Group places top priority on building the necessary foundations.