Career Plan | Contributing to the local community through a range of leisure activities Cultivating people and business We are the LPC Group
Expand your horizons from our amusement business
The LPC Group manages a range of business operations centering around our "Marusan" pachinko and slot machine business. After cultivating the basics of customer service, competencies and business acumen through our amusement business, you can challenge yourself in a range of business areas. It all comes down to how motivated you are.
It doesn't matter if at first, you don't know what you really want to do. You will no doubt discover what area you want to go into through your interactions with senior staff members and local customers.
Evaluation System and Career Scheme
The LPC Group has established a fully transparent personnel evaluation system and career scheme. Examinations for promotions are held every six months. We encourage employees to take the shortest route to advancement, without catering to the needs of others.
There are also cases of employees that started out working in the amusement business that have found a different goal and are now working at head office. The LPC Group has also established a system that allows employees to offer business proposals to top management. We actively encourage our employees to meet their ambitions head on.
Employee Training
Here at LPC Group, we believe that human resources are our most important asset. We have established various training programs with the goal of developing employees, who we consider to be the "treasures" of the corporation.
From new employee training to qualification testing for manager promotion, technology qualification programs for learning about new technologies, and other kinds of seminars, we invite outside instructors and as businesspeople before employees we make use of outside institutions for employee cultivation that has an ethical component. Motivated employees are free to participate in training regardless of age or experience.
Combined with our focus on free expression and actual ability, our rigorous training programs cultivate up-and-coming employees who will go on to take responsibility for the corporation in the future.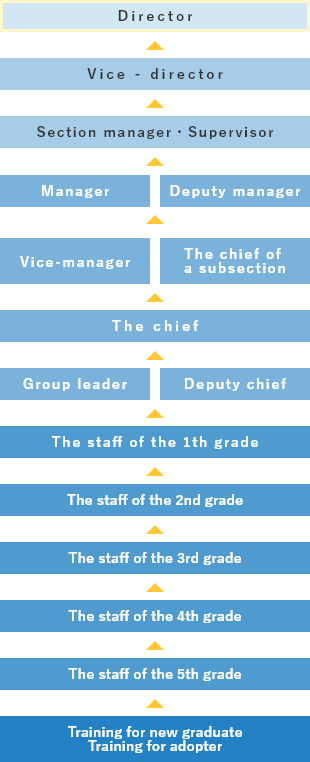 New Employee Training
Every year in April, new employee training is conducted for new employees. The purpose is to acquire the necessary reception and greetings for customer service and business manners as a member of society. In the future, there will be training and lectures from seniors and bosses, and it will also include training in actual work.
Mid-career Emplyee Training
We also provide training for mid-career employees when they join the company. Rather than entering the store immediately, the first step is to firmly acquire the company profile, business content, and actual customer service training at the head office.
Follow up training
We promote communication between our store managers, new employees and staff from other locations in order to have them reflect on their actions, review their own roles and set future goals.
In-house Training
Almost every day, the stores are undergoing training. In pursuit of customer satisfaction, all employees consider the store's problems and try to create a better hall. We also conduct customer service manner training as needed. Lecturers are not only executives but also employees, and the training system is designed to take advantage of each specialty.
Outside Training
Under the presence of the fire department, we also conduct fire drills and emergency resuscitation training using store holidays for each store. In the unlikely event of a fire, we conduct daily training so that each and every employee can respond calmly, including crisis management. Under the emergency resuscitation method, employees are regularly trained so that each employee can act promptly in the event of an unexpected situation such as sudden customer illness during business hours. In addition, by participating in a variety of lectures by lecturers and trainings held outside the company, we aim to improve employees' abilities and raise their awareness as service professionals.
Promotion Training
Promotional training is regularly held for the purpose of upgrading to improve your skills. There are various types of promotion training from beginner to intermediate, and from group leader to chief.
Don't work in a company that doesn't appreciate you for your true worth.
You joined our company because you felt a connection to it.
We're very happy—thank you! But we would be sad to find that ten years later, that hopeful youth had grown into a tired adult.
That's why we have chosen to stand in our employees' shoes and think about their future.
For example, think about your life when you turn thirty. Imagine embracing your fifties.
This thinking is what has given rise to our career plan.
This doesn't mean that you need to follow the rails laid down by our company.
Your career is something you build through your own endeavors.
We hold examinations for promotion once every six months.
Taking the shortest route to advancement without trying to ingratiate yourself with others is a great thing.
We want you to pit your desire to grow against out transparent evaluation standards and career system.
Our goal is to be the kind of organization that will meet your ambition head-on.
We hope to offer our employees many stages for growth.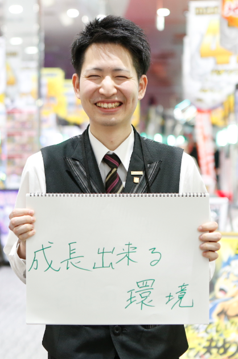 What do you want to do after you graduate college?
Not many people have their minds made up.
The LPC Group aims to become an enterprise that can oversee the creation of entire towns, responding to a variety of needs.
We want you to find your own goals and dreams amidst all this, and bring them to reality.
People who have worked in our Amusements business also come to work at the head office with a different goal.
The Group also has a system that allows employees to offer business suggestions to management, which provides excellent opportunities to those who chose to participate.