Graduate Recruitment | Contributing to the local community through a range of leisure activities Cultivating people and business We are the LPC Group
Message
If you can't find your calling in life, why not join us at the LPC Group and start looking.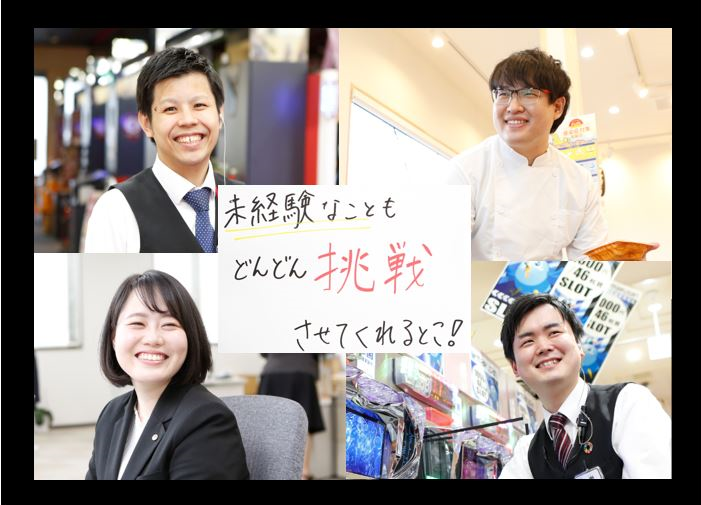 There are few people who really know what they want to do before joining the workforce. On the other hand, a large number of people find their calling once they start work. There is nothing wrong with this approach.
If you don't know what it is you want to do in life, you can start looking at LPC. The LPC Group offers a broad variety of career options. We offer a working environment where young employees can challenge themselves, and even if they fail, we have the corporate culture to put them back on the right track.
There is no need to rush into anything, take your time. We invite you to discover your true calling with us.
We are confident you will find yourself with the LPC Group.
The LPC Group is recruiting new graduates for FY2022.
Application/Recruitment Flow
Apply through Mynavi

Corporate information session
Selection process (steps)
Interview, aptitude test, general knowledge test, application form
March 2022 prospective university, junior college and vocational college graduates
(those who have already graduated can also apply)
Key Points Regarding Applications
Eligibility Requirements
March 2022 prospective university, junior college and vocational college graduates (those who have already graduated can also apply)
Occupation Types
(1) Amusement store staff
(2) Hotel staff
(3) Restaurant staff
Work Locations
(1) Amusement
[Shimane Prefecture] (Matsue, Unnan, Izumo, Ota, Hamada, Masuda cities)
[Yamaguchi Prefecture] Hagi city
(2) Hotel
[Shimane Prefecture] Izumo city
(3) Restaurants
[Shimane Prefecture] Matsue, Izumo cities [Hyogo Prefecture] Itami, Kobe cities
[Tottori Prefecture] Saihaku-gun
Work Hours
(1) Amusement: 8:00-24:30
(2) Hotel: 5:00-22:00
(3) Restaurant: 9:30-22:30
*All the above work on a shift system/8 hours per day
Initial Salary/Allowance
(1) Amusement: 250,000 yen
(2) Hotel/wedding production: 210,000 yen
(3) Restaurant: 210,000 yen
*The above salaries are for universities graduates (general staff)
*Includes duty allowance, shift allowance, work allowance and meal allowance (commuting allowance paid separately)
*Prospective salaries starting April 2020
Compensation
Promotion: 1/year, Bonus: 2/year
Days Off
8-9 days/month (105 days/year) shift workers
Recruitment history
[Kanto]
Aoyama Gakuin University, Waseda University, Keio University, Rikkyo University, Chuo University, University of Tsukuba, Hosei University, Kokugakuin University, Tokyo Metropolitan University, Senshu University, Teikyo University, Tokai University, Musashino University, Taisho University, J.F. Oberlin University, Kanagawa Institute of Technology

[Chubu/Hokuriku]
University of Toyama, Chukyo University, Kanazawa Gakuin University

[Kansai]
Kyoto University, Kyoto Prefectural University, Kyoto Sangyo University, Kobe Gakuin University, Kobe University of Welfare, Konan University, Osaka University of Economics, Osaka Gakuin University, Osaka Seikei University, Osaka University of Commerce, Hannan University, St. Andrew's University, Osaka Business College, Kobe Institute of Computing, Osaka Information and Computer Science College

[Chugoku/Shikoku]
Shimane University, Hiroshima University, Okayama University, Tottori University, Yamaguchi University, Tokushima University, Kagawa University, Ehime University, Kochi University, University of Shimane, Yamaguchi Prefectural University, Okayama Prefectural University, Shimonoseki City University, Onomichi City University, University of Kochi, Tottori University of Environmental Studies, Hiroshima Shudo University, Hiroshima University of Economics, Hiroshima Institute of Technology, Hiroshima Kokusai Gakuin University, Hiroshima International University, Hiroshima Bunka Gakuen, Yasuda Women's University, Hiroshima Jogakuin University, Fukuyama University
Okayama University of Science, Kurashiki Sakuyo University, Okayama Shoka University, Shujitsu University,International Pacific University, Kurashiki University of Science and the Arts, Kibi International University, Tokuyama University, Matsuyama University, Tottori Junior College, University of Shimane Junior College, Hiroshima Bunka Gakuen Junior College, Mimasaka University Junior College, Izumo Core College, Matsue Sogo Business College, National Institute of Technology, Matsue College, Matsue Ecole DCPB College & University,Hiroshima Accounting College, Hiroshima Business College, Hiroshima Business Information College, Hiroshima Institute of Computer Science, Anabuki Design College Hiroshima, Anabuki Information Design College

[Kyushu/Okinawa]
Kyushu University, Nagasaki University, University of Nagasaki, Miyazaki Municipal University, Fukuoka University, Kyushu Kyoritsu University, Kyushu Sangyo University, Meio University, Kyushu Women's Junior College
Contact Us
General Affairs and Human Resources Group: Human Resources Officer (Azumakawa,Hoshina )
TEL: 0853-25-0333
E-mail: jinji@marusan-dream.co.jp